Crafting a Slab of Branson's History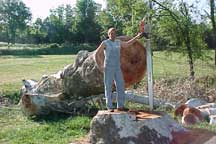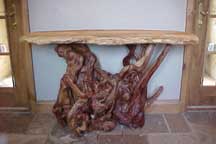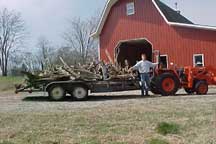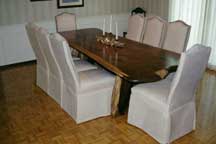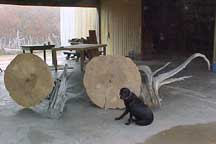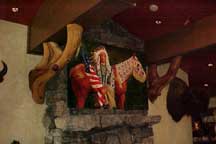 About the Wood Merchant Company........
WOOD MERCHANT, a partnership owned and operated by Richard J. and Sue D. Braun, specializes in creating one of a kind furniture and decorative accessories from various types of fresh water driftwood, salvaged wood, logs, timbers, wood burls, metals and glass. The business was started in the spring of 1987 after a visit to the Colorado Springs, CO area. Seeing the various display fixtures made of driftwood and wood burls used in the National Carver's Museum and the National Wildlife Museum stirred Rick's imagination and creativity.
Rick was commissioned by Silver Dollar City, a pre-1900 theme park, located near Branson, MO, to build the gallery fixtures for the National Wood Carver's Showcase, held in the Fall of 1987. This was the first national convention, gallery show and sale of the National Wood Carver's Association (NWCA.) Needless to say, the gallery fixtures, coupled with the beautiful wood carvings were appreciated by NWCA members and Silver Dollar City visitors as well.
From this beginning, Braun's talents emerged in building more conventional residential and commercial furniture including sofas, chairs, coffee and end tables, desks, dining tables, bars and bistro tables, beds, dressers, entertainment centers, armoires, architectural accents and many decorative items and accessories. Rick is at the mercy of Mother Nature for the raw materials to build each piece. Many times, after a piece of driftwood is collected, Rick spends hours observing the piece from every angle, before developing options for the final product design. There are many different processes involved from start to butter-smooth finish on each piece. There is rarely a passerby that doesn't reach out to touch at least one piece in an exhibit, and usually several pieces are caressed before a visitor leaves.
One of the most challenging and enjoyable parts of this business is to be able to take a photograph, or better yet, a piece of driftwood that a client has collected from a favorite vacation and develop that piece into a functional or decorative item for their home or office, rather than leaving the wood to rot outside in their garden. Probably the most gratifying part of the business is seeing the delight on the face of a client after a treasured piece of driftwood has made its transformation into a beautiful and functional (or decorative) piece of art for their home or office.
Rick also works with Interior Designers and Architects to create commissioned works for clients' special needs, to make an individual look that compliments the lifestyle of the owner.
Since the early 1990's, Rick has worked on many commissioned projects for the nationally renowned Bass Pro Shops in Springfield, Missouri. Commissions include furnishings for Big Cedar Lodge (the Ozarks' premiere wilderness resort); Dogwood Canyon Nature Park, Lampe, Missouri; and, Top of the Rock Restaurant, Ridgedale, Missouri. Other commissioned works can be seen at the College of the Ozarks, Keeter Center in Hollister, Missouri and at the Holy Family Catholic Church in Shell Knob, Missouri. Some of the furnishings for these projects include: dining tables, coffee tables, end tables, log benches, log beds, whole tree headboards, half log desks, fire place mantels and corbels, dressers, lighting fixtures, altars, baptismal fonts, specialty chairs and a variety of architectural and structural accent pieces.
Rick has won many awards for design and craftsmanship over the years, including: Best Exhibit at the prestigious War Eagle Fair, Hindsville, AR in 1988, 1989, 1992, 1996, 1997, 1998 and 2003; First Place White River Valley Art and Craft Fair, 1988 and 1989; Bass Pro Shops Master Craftsman award, 1994; charter member Branson Arts Council Branson Fest; juried member Best of Missouri Hands; juried member Arkansas Craft Guild; and juried Master Craftsman Silver Dollar City National Craft Festival. In addition, we have received the thanks and appreciation from many satisfied clients nationwide.
Feature articles about the WOOD MERCHANT and the Braun's include: Our Missouri, published by Missouri Interpretive Materials, September, 1989; Juried Members of "Best of Missouri Hands" from 1990 to present; Northwest Arkansas Times, October 16, 1993; Branson Daily News, April 18, 1996; Big Cedar Lodge 2002 Calendar, a 300 year-old fireplace mantle was featured in the month of July; Log Home Magazine, November, 2002; Springfield News Leader, September 28, 2004; and Branson Daily News, October 15, 2004.
The Braun's have two sons, Shawn and Mac, who have helped with raw material collection and the production process before Rick completes the final finish on a design. Both of the boys, now young men, are avid outdoorsmen, encouraged from the time they were young to respect nature and the environment.
If you were to ask Rick Braun to describe in simple terms what he does, he would say, "I take what Mother Nature gives to us, and make it into something beautiful and useful for the home or office. I am at the whim of Mother Nature for what I create. She is mostly responsible for the results…….."
If you wish to visit the WOOD MERCHANT Design Studio an appointment is highly recommended. The Design Studio is located on the North side of Missouri State Highway 86 at the junction of Missouri State Highway 86 West and 13 South just South of Lampe, MO.
For an appointment you may call (417) 779-5324. You may also email us at woodmerchant@wood-merchant.com. We will contact you confirming your appointment time.
Thank you for your interest in the Wood Merchant where every piece is created "One of a Kind, One at a Time!"